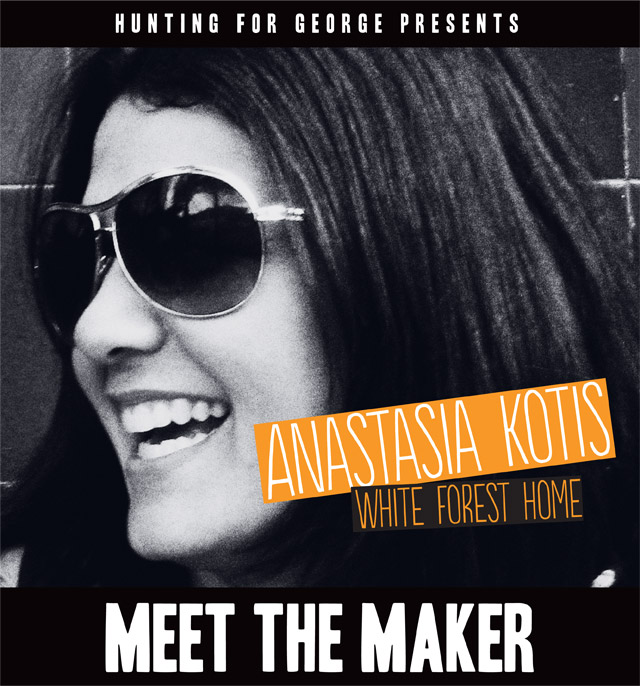 Name: Anastasia Kotis
Brand: White Forest Home
Job Title: Owner, Director, Designer
Location: Melbourne, Victoria

Ordered and colourful chaos at Annie's Melbourne studio!
1. What did you want to be when you were a little 'un?
An actress, singer, designer  – basically something creative. My passion for colour and design has always been there so I knew I would end up doing something creative.
2. What made you decide to start your own brand?
After many years in the corporate world working in Marketing, Sales and Product Development, I always had a deep down passion of doing my own thing. I wanted to be my own boss and do everything within a business. I had the formal and practical background so I needed to take a leap of faith and start it. My dad is an entrepreneur and this has always inspired me to have my own thing. I also wanted the chance of producing lovely product that people liked. Nothing is more challenging and exciting at the same time than running your own business.
3. How would you describe your style of work?
Bold, colourful and fun. I love colour and I know colour has such an effect on us all. I love it!
4. What is the best and worst thing about being a designer?
Being really proud of something you have done and people commenting that they like what your doing. Recently I had a comment on Facebook and it was a woman who just wanted to let me know that she liked my prints and she was going to buy some. So nice and I am very grateful!
I think sometimes you have days where you do not feel creative at all. But then you take time out, head to a gallery, go to a book store or just get a coffee and this usually gives me some time out to explore new ideas.
5. What is your favourite creative outlet?
I love listening to music, I play piano as well which always relaxes me. I also love shopping at home stores or browsing the internet for inspiration.
6. There's got to be something you're shit at?
Would have to be water sports and singing. I would love to be able to sing. No 'Voice' for me!!
7. What are your top 5 websites/blogs at the moment and what makes them stand out?
I love Decor8. Great ideas and a wide variety of content. Always keeps me inspired.
The Design Files – no need to explain. Lucy is awesome!
Design Sponge – love it! Always great content and inspiring pictures.
Colourlovers – great palettes and new ways of looking at colour.
From Scandinavia with Love – I adore Scandi design – anything and everything.
8. Date, Marry, Kill… 
Date – The Brothers off Supernatural. Jensen Ackles or Jared Padalecki
Marry – As above!
Kill – don't think anyone really….
9. So in the next couple of years your brand takes off like a rocket, multi million dollar offers start coming though the door. Do you stick with it? Sell out? Start again? What and where will you end up in 10 years time?
WOW – that would be nice. I think my other half would become a house husband!! : )
I would stick with it – reinvest in new products and opportunities and expand the business even more.
In 10 years – I would like to have my ultimate house, maybe two one in the UK and one in Melbourne. The business would be worldwide  and we have the opportunity to travel and be inspired even more than we are now.
10. What song or album are you currently listening to and is it any good?
Iluka, Eyes Closed!

We are literally salivating over Annie's colourful and fun prints. Here's just a taste of some of her prints and we can't wait to get more of them on board.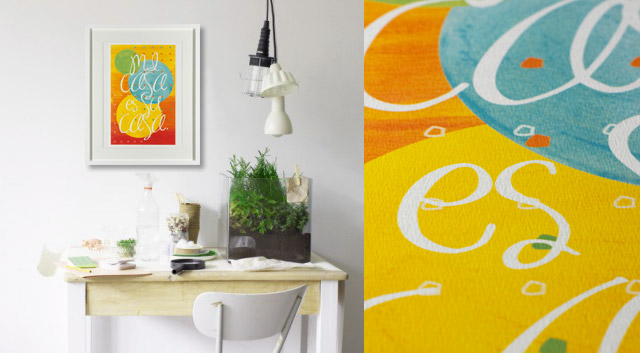 Anastasia's "Chill Out Music" – Relaxed and then some fun 80's at the end! I chose these songs as they relax me when designing and working away on my prints. I love guitar so most of them use acoustic guitar which is always nice. Featuring Eye of the Tiger and Thriller gets me on the go at the end when I need to get moving or doing something that is less exciting than designing! : )